Type: text
Padding top: normal
Padding bottom: tight
Background: white-500
The knowledge and experience to guide your project to successful completion
Our specialist engineers have amassed considerable experience in the design and installation ballast water management systems (BWMS) for vessels of every type and will guide you through each stage of the process. Whether newbuild or retrofit, the system will be uniquely tailored to your requirements, thoroughly complying with IMO G8 and U.S. Coast Guard legislation. With our technical expertise, in-house manufacturing, project management and aftersales service, we are committed to providing you with ongoing product life cycle support.
Type: text
Padding top: tight
Padding bottom: normal
Background: white-500
Type: steps
Padding top: loose
Padding bottom: loose
Background: gray-200
How we guide customers through the steps
Surveying and system design
We can provide qualified marine engineers to survey vessels to determine the most suitable locations for BWMS equipment and identify the necessary routes for installation. In the case of retrofit installations, 3D scanning is also available to supplement the survey information allowing for ease of layout of the equipment during the planning stage. Typically, the survey will examine:
Space and power availability
Pump flow rates
Potential cable runs
Existing pipework layout (retrofits)
Access Review
Pressure drops
Flow characteristics
Number of pumps and whether they run consecutively.
Existing ballasting requirements.
On receipt of the order for the Evac Evolution system, detailed drawings and calculations are submitted to the relevant Class Body for evaluation and approval.
Carefully planned installation
Working in close liaison with your engineers and the shipyard we will ensure that everything is carefully co-ordinated with access routes and other logistics planned well in advance. Skid mounted systems can minimize installation time, whilst our modular systems provide enormous versatility and facilitate ease of handling on board.
Customers have the option of equipment supply only or installation can be carried out by the yard with supervision and commissioning undertaken by our dedicated teams.
Alternatively, there is the choice of full turn-key project management with installation using our highly skilled teams of mechanical and electrical engineers who see the project through to final commissioning.
After sales and life cycle service support
Evac has offices in 14 countries and representatives in more than 70 countries providing world class technical support for customers wherever they are located. This is backed up by the in-depth knowledge and practical experience of our BWMS design and manufacturing team based in the UK. All of these resources are available to ensure that your system continues to operate at the highest level of effectiveness throughout the life cycle of your vessel.
Type: image
Padding top: loose
Padding bottom: normal
Background: white-500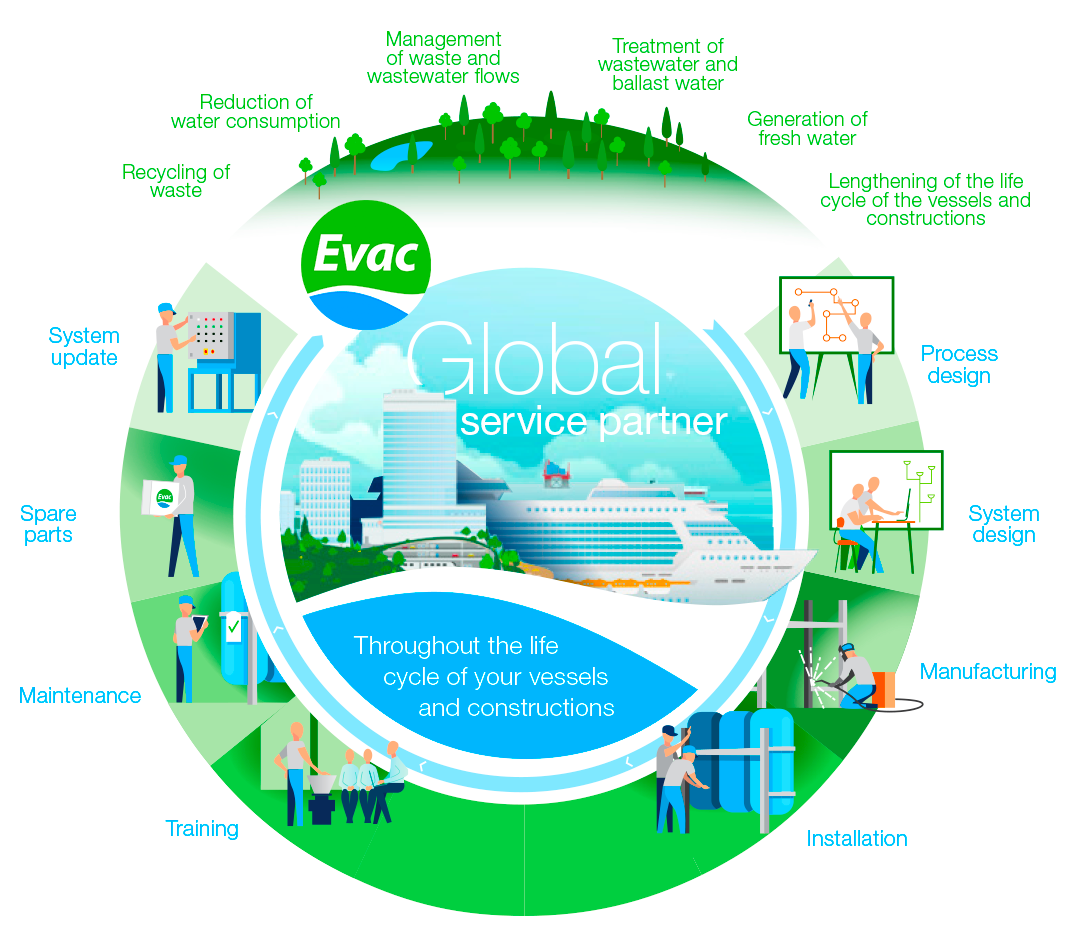 Type: multi
Padding top: normal
Padding bottom: loose
Background: white-500